Portage Lakes is the Purple Martin
Capital of Ohio
For some time now, Larry had wanted to anoint the Portage Lakes Area with the title, "Purple Martin Capital of Ohio." Seems a simple request, but it became more of a crusade as he contacted many of the local legislators in an attempt to get a bill passed to that effect.
First there was Resolution No. 9. It went nowhere. Then came House Bill No. 222. It, too, failed to succeed. But then came HB 404. Passed earlier this year by both the Ohio House and Senate, the bill finally was scheduled to be signed by the governor on Friday, December 19th.
Seven of us accompanied Larry as he went to Columbus to witness the signing: Tom Fry, Kay Lukac, Carol Saurer, Betty Seeley, Paul Toth (President of the Portage Lakes Purple Martin Association and Larry's right hand man), Jim Frost and spouse.
The governor signed HB404 early in the afternoon of Friday, December 19, 2014. It will be fully active in 90 days. Larry will no doubt plan a celebration not to be matched by anything ever seen in this area. Possibly a brass band parade and banners everywhere. Definitely there will be a dinner, with area notables, politicians, and perhaps even the governor attending. Stay tuned…
The grand celebration took place at (Anthes) Prime 93 on Friday, May 8th. Lots of dignitaries were there, the choirs from Manchester, Coventry, and Green high schools sang, and we all congratulated Larry Hunter – because despite everyone's efforts, without him it simply wouldn't have happened.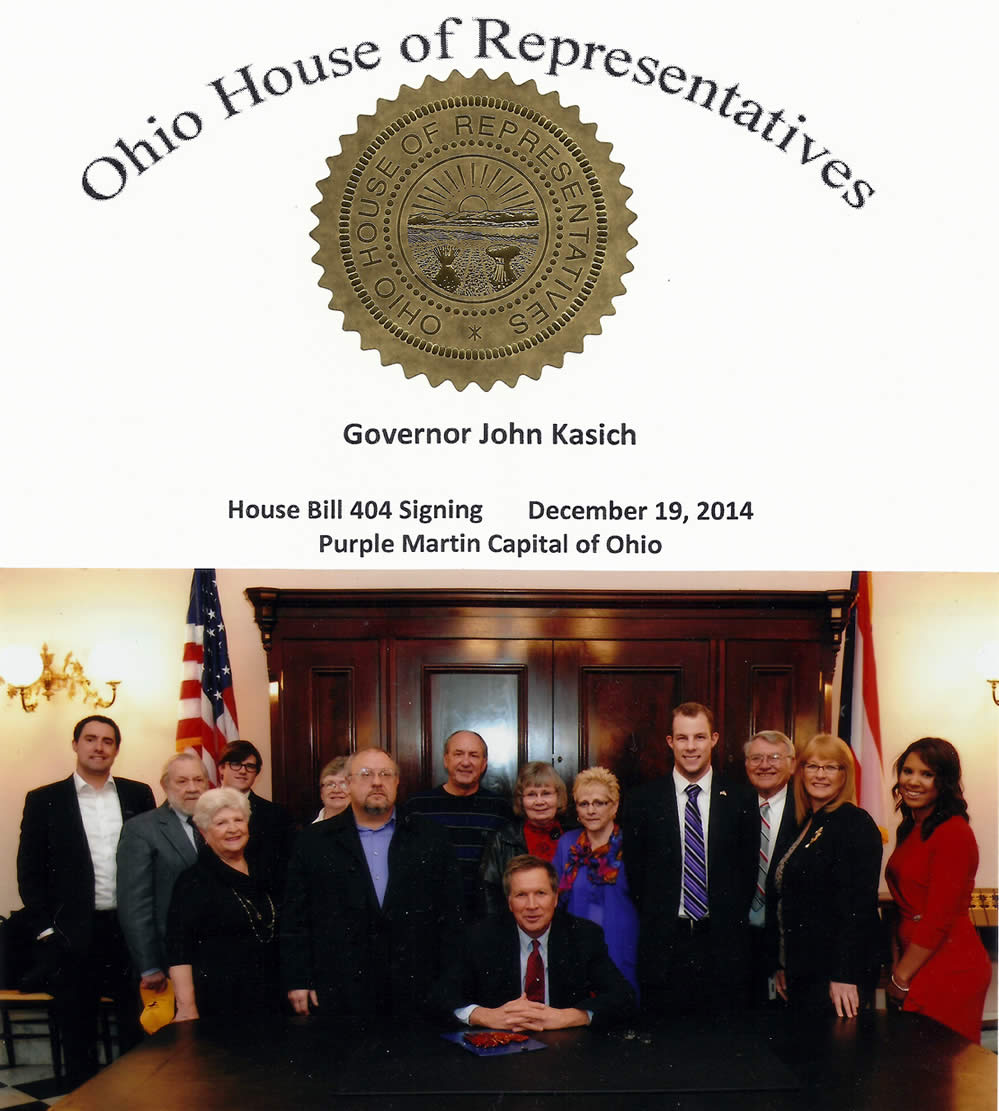 Left to right:
Senator LaRose, Matt McDonnell
Members of the Portage Lakes Purple Martin Association – Jim & Margaret Frost, Betty Seeley, President Paul Toth, Tom Fry, Secretary Carol Saurer, Kay Lukac, Eric Seeds,
PLPMA Advisor Larry Hunter
Jennifer Tock, Kayla Atchison
Governor John Kasich
Our collective thanks to Representative Anthony DeVitis, Representative Marilyn Slaby, Senator Frank LaRose, Lt. Governor Mary Taylor, and Governor John Kasich. They made it possible to achieve our title.